Whenever an interviewer asks, 'Are you a team player?" there is a lot to answer through your expression and presentation. Before all the serious discussion, it is important to understand that 90% of the job positions require someone who can work in a team.
Practically, every job has some certain situation where you have to work as a team player instead of an individual. So, not only for the sake of preparing an answer (or maybe the best answer), understand its importance in real work life.
So before jumping to the tips, let's find the qualities required to be a team player.
What are the qualities of good teamwork?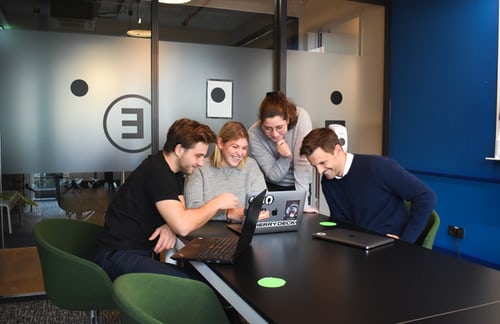 Let's not beat around the bush and understand the top 5 qualities of a good team and team members to meet the common goal.
Transparent Communication
Even if each team member has separate responsibilities, they have a common goal to meet. According to BIT.AI, businesses with effective communication face 50% less employee turnover. It is a crucial step to build a free and comfortable work environment. Also, it makes people flexible to communicate. Along with it, it is important to listen. It gives an understanding and acts as a sign of respect to other teammates.
Gradually sharing insights, new ideas and conducting informal meetings can boost the interest and increase the speed and accuracy. Also, it is important to encourage new thoughts in the team. As a team member, when you support interesting ideas, people would also listen to your ideas. That's how overall growth is possible.
Collaboration and Contribution
For successful teamwork, these two words are connected. As Steve Jobs mentioned that great things in business are never done by a single person, teamwork has its own importance. In a survey, 39% of employees mentioned that there is a lack of collaboration. So companies always look for someone who can drive proper communication in order to find a balanced collaboration in the team.
Consequently, collaboration is followed by contribution. Each member has to put a fair share of contribution to executing a team project. And practically, it's not so easy as people tend to avoid responsibilities easily. So, to be a team player, you need to take responsibility and be trustworthy.
Team Trust
You can ask that where is the guarantee that everyone in a team is genuine? There comes this third point of trust. In a team, if everyone can trust each other and work accordingly, there is a high chance of fast progress. But, trust cannot evolve from thin air. For that, the first two points are important. When everyone in the team is comfortable with each other, they can trust them easily.
Trust also increase mutual understanding and accountability. It's really uncomfortable to blame each other in a difficult situation. Rather, as a team, it is important to trust and work with each other's support. Open and honest communication emphasizes teamwork effectivity.
Pre-defined Role and Individual Responsibility
Every member has their own ability and skills. For a well-organised team, it is important to figure out the strengths. There should be no scope of confusion in the middle of work. Of course, some roles might shift as per the requirement but the primary responsibilities should be pre-defined. When everyone has their comfortable work allocations with proper communication, teamwork seems to be the best.
It is better to form an agile, self-organized team instead of a traditional team. It is better when a facilitator is handling a team from ground level, unlike a project lead who used to pass orders.
Good Leadership
Efforts became clueless without direction, right? That's why every team needs a clear direction to avoid major and minor confusion. Under proper mentorship or leadership, a team can attain the 5 most important elements as business goals followed by physiological goals. After that, the work agreement and effective operating system would strengthen individual members to their fields.
Also, it is important to have fun between work to avoid workload burnout. It also let the team members open up and discuss freely. A relaxed environment always helps to carry out the best output.
Why do interviewers ask "Are you a team player?"
Before you answer, you need to know why they ask this one common question in almost every job interview. When there is a common question asked, there is an expectation for an uncommon answer.
Most corporate companies look for an employee who can work in a team rather than an individual in any position from fresher to manager. Even though it sounds like a closed-end question that can be answered with a yes or no; but there are a lot more to express. Nobody is going to say, no. And when you say. Yes, you need to give a proper explanation to justify it.
To answer this question properly and convince the interviewers, you need to know what are behavioral quotations and how to answer them. With the answer, you need to leave an impression in the interview round. In the answer, there should be a real-life example, your own experience and your abilities. You need to align your skills with the team requirements that are mentioned in the last section.
So, the steps to answer such a question is, your experience in past team activities- your input in the team- why you consider yourself as a team player- what your strengths are.
How to prepare for a Behavioral Interview Question?
Behavioral questions are asked to understand how a person reacts to some specific workplace situations that are common in the professional world. Here are the steps to follow while preparing or answering behavioral interview questions.
Do Research about the Company
Before an interview, it is good to read the job description again to find any special mention for teamwork or collaboration. Go through their websites, blogs, news articles covering the company, etc to understand their work culture. So, when you answer such questions, you can mention those points according to your abilities and present them as a proposed solution indirectly.
Brainstorm Unique Examples
You can go to Google or YouTube and search for examples of behavioral questions and answers. Wait! Is that an extraordinary method? Instead, read the examples from possible references and try to make one by yourself. Interviewers appreciate fresh answers from the applicants. And for fresh ideas, borrow experience instead of making up an imaginary story. The best way is to find out 7-10 key assets that are responsible to make you a strong candidate. For each asset, try to generate an anecdote to add value to the example.
Apply STAR Method
STAR is a common yet effective method to answer any type of behavioural question. This method helps to frame the answer properly as well as the interviewer can understand your answer easily. STAR (or Situation, Task, Action, Result) is also known as CAR (or Context/Challenge, Action, Result) method. There is another method named SOAR ( or Situation, Obstacles, Actions, Results).
Situation: The primary step is to set a background situation. Be specific about the little details.
For example, in my last job, we faced 50+ customer reports on late product delivery. So we as a team of product in-charge went for a survey in the packaging and distribution centre. We were a team of five people and we observed the whole process for three consecutive days.
Task: In this part, you need to explain the problem in detail and mention the task you and your team had to encounter in the situation.
For example, when our company checked all the reports, they find that 90% of those late deliveries were for dairy products. We as a product in-charge team need to find the root of the problem and solve it in two weeks. We have a strict deadline from our manager.
Action: Next comes the plan of action to complete the task as a team. So you need to explain how your team managed to solve it together.
For instance, our team has two product experts, one customer-relationship agent, and two product delivery team leads. We distributed the work between us and start the inspection. After three days, we had the primary report. Based on that, we continued the further process.
Result: In this part, you have to wrap up the story with a summary of the final result. You need to mention how this result helped your team or the company. Also, mention if you've learnt something from this teamwork.
This is to say, our team detected the problem and finally, we can solve it in two weeks. It was tough to complete in such a short time, but as a team, we managed to do so and our company has 35% less customer repost in the next month.
For the CAR method, you need to mention the challenge you faced in past while answering behavioural questions. If you have any situation which is more about overcoming a challenge as a team, you can choose this format over STAR.
For the SOAR method, you need to mention the obstacles you faced while working with a team instead of tasks. The difference is, you can align your abilities while describing the obstacles. In the STAR format, there is no such segment. According to your story, you can choose any of these effective answers formats.
How to answer "Are you a team player?"
As mentioned earlier, like any other behavioural question or questions related to teamwork, you should apply the STAR or SOAR method. But drafting an answer is not enough. You need to include some important facts in your answer.
Incorporate Your Strengths
While describing the situation make sure to add your other skills like adaptability, communication skills, collaboration, interpersonal skills while discussing a task. Also, share your reliability in a team along with observation skills and active listening skills while completing it.
Relate the answer with your target role
If you share a story on working with a sales team but you're applying for a designing job- would your answer impress the interviewers? No. So prepare an honest and relatable answer in the interview. Find opportunities where you can showcase your skill that would help the company in the long run.
Memorize the important points
In an interview, you cannot sound like a student who just memorized the answer. So it is better to memorize the important point and speak freely than to script the whole answer. You should not divert from the main point. So practice what you want to preach. Don't make the answer for the sake of the interview only but to understand the work culture. This would help you to add value to the answer.
Self-analyze before the interview
It is important for you to analyze your compatibility in a team before you can explain it to someone else. So, try to find the answer to the following questions and analyse how good you are in a team.
Are you get comfortable easily with people?

Can you collaborate effectively?

Do you have the skill to communicate with people from different backgrounds and with different personalities?

Can you motivate people?

Can you mediate conflicts?
Mistakes to avoid while answering
After so many tips and tricks, there are some common mistakes people do in the interview. To avoid those repetitive mistakes, have a look at the following list.
Don't Lie
Don't lie in front of the interviews ever. If you're uncomfortable with teams, you have the preparation time to make yourself better. If you don't have any job experience to share, pick any incident from your college or internship. You can also share an incident where you were not involved in the team nut you observed their work and leant something.
Don't say that you're a lone wolf
It simply won't work. Instead, try to make your skill useful to contribute to a team. For an introverted person, it is not easy. But, as this is a part of your target job, you need to prepare properly.
Maintain voice and body language
Learn how to modulate your voice to avoid monotony. Also, maintain your body language throughout the interview. Do not rush while answering as those who are good listeners would never rush while talking. So your expression can answer something on behalf of you.
Similar questions
Tell me about a team project that you have worked on and in what ways you contributed to its success.
Do you work better by yourself or as part of a team?
Have you ever had a hard time working with a supervisor? What motivational strategies do you prefer using?
Do you enjoy working as part of a team?
Can you effectively collaborate with others?
Can you tell me about a team project you were involved in?
Could you share a rewarding team experience?
Describe a project that required input from individuals at different levels across the organization.
Summary
Now, you know the importance of preparing one single answer with so much effort. In this article, you can also find all the approaches to be covered in the preparation. Cover these basic questions properly to cite a lasting impression in the interview and gradually grab the job.